Featured Item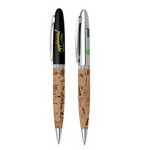 Metal Pen, Ballpoint pen, Twist action, ...
Elegant design twist action ballpoint pen & Cap come with shining chrome or matte black lacquer coated and the natural soft cork material barrel. Blue ink refill Optional. Refills contain NON-TOXIC IN...
$3.43 - $4.36
Welcome!
Welcome to APP HAWAII and thank you for visiting our website!
Our online catalog of over a million Promotional Products is accessible simply by clicking the "search" button. You have the option of searching products at your own convenience or by contacting us for additional assistance.
For over 30 years, APP Hawaii has served as a Promotional Products Distributor. We can offer creative ideas and helpful suggestions to fit your specific promotion or event. We are very competitive and will do our best to provide you with the best quality, best price and exceptional customer service!
For PRODUCT SPECIALS please give us a call at (808) 247-8797 or Toll Free (800) 850-0647. You may also click on the "Supplier Links" tab above and go directly to our preferred supplier weblinks for up to date specials and closeouts.
Email: app@lava.net
Signature Showrooms